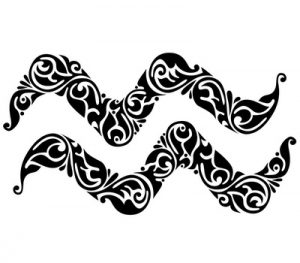 THE WEEK AHEAD: 25 October - 2 November 2020
Aquarians are supposedly all signed up as solo fliers, independent and liberated – yet of course you get as entangled as anyone else in family and personal relationships as you can't escape the human condition entirely!   Yet with a Full Moon occurring so close to your ruling planet Uranus on Halloween, it's a moment to check in with yourself before things go bump in the night.   Is this situation really allowing you to grow as a person?  Do you feel your spirit is free?  Of course with Covid most of us are not able to live the lives of our choosing, however, this is to do with your home, personal setting and family relationships and anything that is truly burdensome might face the ejector seat.
THE MONTH AHEAD: October 2020
Timing strategies and plans will be caught in the spin cycle Mercury retrograde in the second half of October requiring plenty of Plan B's.  Since you can't map things out in advance, you have to do what you do best and stay fully in the present, greeting changes as they arise.  This is a reset, even if you still don't know the ultimate destination – just go along for the ride and experience the liberation of living without expectations.  The Full Moon on the 31st carries a Uranian vibration which is right up your street.   Trick or treat?
LOVE
Up until March 22 you're literally clearing the debris of your past whether that's in terms of previous relationships, old issues that rise up in current ones or the old patterns that keep repeating. Then on March 22 Saturn moves into Aquarius for the first time in 29 years. This is quite something and heralds a no-nonsense approach where water bearers will come over all practical and even committed. Enjoy it while it lasts until July 1 and then Saturn backtracks out of your sign and returns on December 17th for a 2.5 year period. You are on the threshold of something very important whether you are deciding to move further in or further out of a relationship. This is a year of clarity about your needs, wants and capacity to be your own person whether that's within the context of being with another person or just for yourself.
WORK AND MONEY
As Saturn is stepping in, then out, then back into your sign this year it would be wise to think long term about where you are investing your talents, your money, your energy. You need the sensible return on all of these, rather than tilting at windmills. Saturn is the planet of responsibility, hard work and also karma, in other words the rewards you get for the effort you put in. You're prepared to sign on the dotted line for the right thing.
In the UK? Call the special star sign number below for your Weekly and Year ahead stars. Phone 0901 609 5511
You must be 18 years or over to use this service. Calls cost 61p per minute and last approximately four minutes. Call costs from other networks and mobiles may vary. Services are for entertainment and guidance purposes only. SP: Spoke/Phonovation 0818 217 100. Customer care: 0207 053 7000